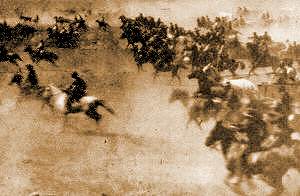 Just about 100 years ago, the U.S. government opened vast territories for settlement by citizens, sparking an unprecedented rush for homesteads in the American west.


Today, we find ourselves in a similar environment; wide-open spaces, there for the staking-out, but if someone else gets to the spot you want first, it could effectively be theirs in perpetuity.
The experienced and enthusiastic graphic arts, web design, and writing staff at Ozone Ranch want ensure your company a professional Internet presence by becoming your "Internet support department". And, because we are located in Idaho's northern panhandle, our overhead is lower -- which means that your Internet marketing dollars will go that much farther!
By today's standards, an effective web site should be a visually-appealing combination of graphics, useful information, entertaining content -- all gathered into a coherent and navigable site.


Frankly, a lot of the offerings out there today are drier than bad barbeque. If your company settled for a merely adequate "me-too" web site design in the past, you may be wasting thousands of dollars that could be saved by utilizing the services of our professional design staff.


We develop sites and perform site makeovers with an eye toward ease of use, effective communication and low download times, applying the newest techniques and tools available -- resulting in polished, custom-built sites which immediately become invaluable marketing and communication assets for our clients.
Ozone Ranch is a group of diverse and multi-talented individuals with as much as much as five years experience designing web pages -- long before any of thoe greenhorns had even learned to spell "www" or heard of dot-com!


We also have the training and experience to do graphic design right -- our effective arrangement of original graphic elements with text on a efficiently-programmed site will supercharge your marketing, sales or customer support efforts.
To provide your company with the best Internet web site and graphics design -- even if you're facing a tight deadline, contact us now!